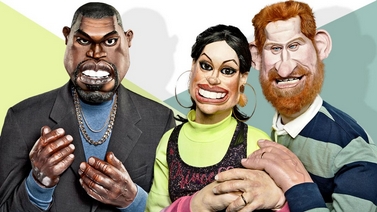 Because of the somewhat baffling concept of wokeness, it seems that things are far from straightforward in the normally devil may care world of satire. We learnt from the Times last week that the producers of the new Spitting Image for ITV are worried about certain aspects of the programme due to air in the Autumn. They've already produced Spitting Image puppets of people in the public eye, like Prince Harry and his dear wife, and the probable next President of the United States of America, Kanye West. What they're stuck on is whom they ought pick to voice them and who should write the scripts. You may think the answer is simple - actors and scriptwriters respectively. But no. Since the Simpsons has stopped using Hank Azaria from voicing the character Apu, the Indian convenience store owner, they all feel that they are treading on eggshells.


It is, of course, difficult for us to know exactly what made Hank inappropriate as the actor to portray him. Was he perhaps not of a similar age or height as the real Apu? Was it perhaps that he had no experience in the retail trade and so could not, as an actor, convincingly portray the vital importance of stock control? I can't think of anything else of relevance to the employment of a talented voice-over artist. I'm sure it has nothing to do with the fact that he is Jewish, of Greek descent, whilst Apu is Hindu and a cartoon character.

There must though be a way through all of this. I believe that the solution is first of all to decide what are the person's really significant defining characteristics, those which we most associate with them. Kanye West is a rapper and married to Kim Kardashian, part of the world-famous 'K' family. So then, I would say that the producers need to find another rapper with a first name beginning with K to voice him and also to write the satirical script. After all, rappers are poets and should have a real feel for the thinking of other rappers. Kevin Earl Federline is an obvious choice as he is of a similar age, America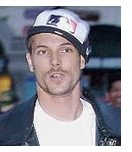 n and a rapper. He's not exactly Kanye's spitting image, of course, but then our looks are only skin deep and so completely unimportant, and he would, of course, only be doing a voice-over. He also holds the record for the lowest-rated album ever according to the metacritic.com database. It summarized the reaction of the listeners to the the album with the phrase "extreme dislike or disgust". So then he hasn't yet reached his peak and can only improve. Mind you, the phrase 'extreme dislike and disgust' describes very well my reaction to the utterances of the (almost) President Kanye West - when I can understand them.

And what about Prince Harry? Well his essential defining characteristics are that he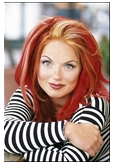 has ginger hair and is a prince. So then, perhaps he could be voiced by Ginger Spice, who, although not a Prince, was photographed, along with the other Spice Girls, with young Harry and, later on, was a guest at Harry and Meghan's wedding. So she obviously inhabits the princely world. Who to write the satirical lines for him? Perhaps the best bet would be Jilly Cooper CBE (so almost an aristo) who writes so knowledgeably and sympathetically about the upper classes and, amongst other literary classics, wrote Jump! which tells of the transformation of a mutilated horse into a successful racehorse – a metaphor for the life and times of Harry? The book also featured a goat called Chisolm - to hit back at the critic Anne Chis

h

olm - so she's quite used to writing subtle satire and indeed produces the sort of literature which I'm sure Prince Harry would appreciate and understand.

And so we come to Meghan. What comes into our minds when we think of her? What are her main characteristics? Well she's rich, is an actor and is married to royalty. Unfortunately Grace Kelly is no longer with us to portray her, but there are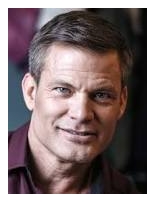 others, such as the 90s-era Starship Troopers action-hero actor Casper Van Dien, who married Catherine Oxenberg. She was the former star of Dynasty and is the daughter of Princess Elizabeth of Yugoslavia. So he's an actor, rich and married to royalty. Just like Meghan. In fact, Oxenberg and Van Dien married at the highly tasteful Graceland Wedding Chapel, so he also understands celebrity very well and the richness of life that goes with it.

Who though could possibly write the necessary satire from, as it were, within? Well, it seems to me that anyone who has read Private Eye will know that the famous writer Sylvie Krin would be the ideal choice. She is of course the writer of the Eye's biographical series, 'Heir of Sorrows', concerning Prince Charles and his unending and unbearable wait to become King, and his interaction with the rest of the members of his family. This means that she would have the inside track on what's been happening and how royalty thinks in its dealings with outsiders, such as Meghan.

So then, having first defined the subject's most important characteristics, their essential nature, it seems really quite easy to find people who share them. Who then could possibly object to their doing the voicing or scripting? I'm just surprised that people see it as being so fraught. After all, for Spitting Image in the 1980s, Margaret Thatcher was voiced by a man, Steve Nallon.

But then, I'm not a believer in group identity politics. Because this is what lies at the root of the problem. Rather than bringing people together, identity politics seeks to create and emphasise separate and increasingly narrow identities for ethnic and religious groups. They say that the mere fact that such distinct identities exist means that no-one should portray someone of a different group, whether different through colour or ethnic origin.

So will Italian actors have to play all the roles in Romeo and Juliet? Will a mad actor have to play King Lear and will fairies have to be found to play in a Midsummer Night's Dream? Will the obviously white roles in plays no longer be offered to people of other colours - because if black roles are exclusively reserved for black actors, then... Will homosexual men be barred from playing heterosexual roles? Will Big Bang Theory therefore have to be re-made? And as for women playing men's roles, I don't think so!

But things have moved on even further and, now, 'using' someone-else's culture in some way has become 'cultural appropriation', and so racist. We are told that we shouldn't sing songs, spirituals, with an Afro-Caribbean heritage unless we are of that ethnicity. But how far does it extend? Can I object to the songs which have sprung from my Welsh heritage being sung by English people?
Should Italian opera be sung exclusively by Italian singers? What happens if it's about a Japanese person, such as Madame Butterfly - and then, who is to play Pinkerton?
Should I give up using any language other than English? How absurd!

Both Martin Luther King and Nelson Mandela wanted to put an end to division on the ground of race. Clearly, though, we are now going in the opposite direction, with the attempt to create exclusive groups of people which no-one else is entitled to emulate in any way and whose culture we are not entitled to appreciate except as distant observers. The cancel culture has exacerbated it, with those who think that they are morally superior to the rest of us doing all they can to prevent those with whom they disagree having any sort of platform to explain their views. But the thinking behind it all is a complete mess. And, unfortunately, it is something which will in itself increase the disharmony that any sensible person would want to see ended.

Paul Buckingham
23 August 2020